Despite never living in the America and only ever celebrating Thanksgiving with my Mum's one American friend, I truly do love Thanksgiving TV specials and movies. They're a sign Halloween is over (thanks heavens) and that Christmas is a mere five weeks away. Sure, nothing compares to a good Christmas movie but, Thanksgiving flicks can be just as wholesome. Whether you celebrating Turkey Day or not, we guarantee these are some of your fave watches. So, if you're wondering watch to watch on Thanksgiving (or as we call it in Australia, Thursday), here's the very best Thanksgiving TV episodes and movies to get you in the spirit.
Friends: Season 5, Episode 8
This is everyone's favourite Friends episode. Duh! It's the one where Monica and Chandler confess their love. That's not a spoiler by the way, it's been 21 years.
Friends:
 

Season 8, Episode 9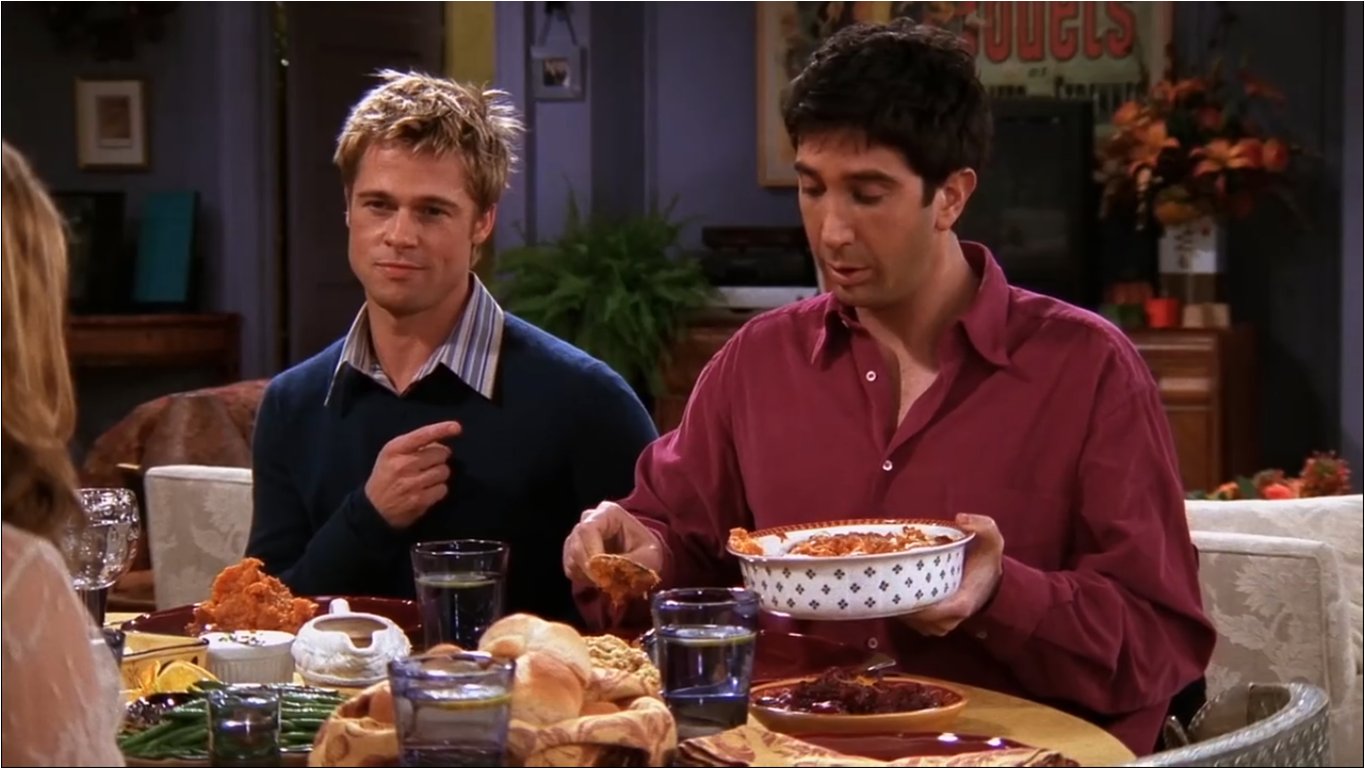 This 2001 episode should have been called "the one where Brad Pitt got lost looking for the set of Oceans  Eleven". Pitt, who was married to Jennifer Anniston aka Rachel Green at the time, makes his cameo as Will, their friend from high school. Unfortunately he was also the leader of the "I Hate Rachel Green Club" back in the day. Awks.
Modern Family: Season 6, Episode 8
Sure, Modern Family might not be in the same canon as Friends but the Dunphy family puts on a mean holiday special. Clownish Dad Phil and youngest son Luke promise that they will make the turkey, but Claire isn't so sure. She makes a back-up turkey, then we get a surprise third turkey. It's a classic "too much turkey" Thanksgiving.
Master Of None: Season 2, Episode 8
If we can convince you to watch any Thanksgiving eps, we hope it's this one. Lena Waithe won an Emmy for this performance and rightfully so. Her character, Denise, has yet to come out to her family, but things change in a one very powerful scene.
This Is Us: Season 1, Episode 8
After you finish the episode above, keep the Kleenex out. There's yet to be an episode of This Is Us that hasn't made as cry and 'Pilgrim Rick' from season one is no different. Oh Jack, how you break our hearts.
Gilmore Girls: Season 3, Episode 9
Something about Gilmore Girls always feels festive, even if it's not a holiday episode. However, if the title of this episode, 'A Deep-Fried Korean Thanksgiving', doesn't tell you everything you need to know, you'll just have to watch to find out why it's the quintessential Thanksgiving episode.
How I Met Your Mother: Season 3, Episode 9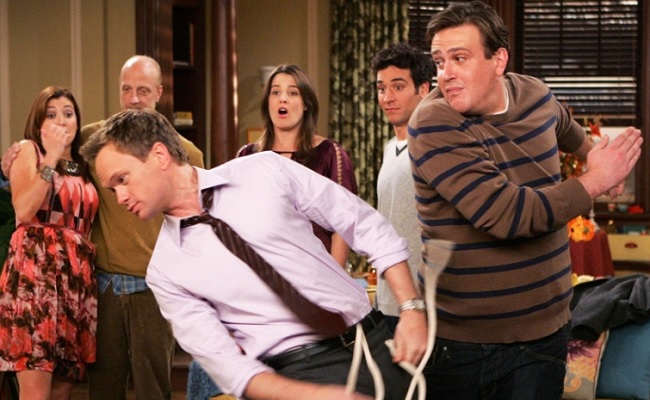 Forgetting that the writers of HIMYM robbed us of a potentially iconic television show with that series finale, the Thanksgiving episode offers a small slice of redemption. It's the group's first Thanksgiving with Lily and Marshall as a married couple but the real tension here is that Barney is waiting for Marshall to slap him for the third time. You have to watch it to understand.
Gossip Girl: Season 1, Episode 9
When Dan hears that Serena and her family are spending Thanksgiving alone at The Palace, he invites them to spend the holiday with his family. Which as you might remember is super awks because it turns out their parents used to bone (unbeknownst to their offspring). Meanwhile, Blair's having a meltdown, because well, that's what Blair does best.
Friends: Season 3, Episode 9
Okay this is the last Friends mention on this list. But honestly, how could you go past 'The One with the Football'.  Emotions become the feast of the day with a game of touch football on Thanksgiving. But unfortunately, that means the turkey is left to stew when the losing team calls for a rematch.
The Office:
 

Season 7, Episode 9
The Office is a year-round favourite but we can't go past 'WUPHF.com'. Dwight recreates Hay Place (a fond childhood memory) to fulfil a childhood dream of becoming Hay King. But unfortunately for Dwight, this is the episode where we meet Senator Robert Lipton, the future-husband of his office crush, Angela. Devo. If you're wondering what the heck WUPHF.com is, it's a scheme by Ryan the temp.
Seinfeld: Season 6, Episode 8
George is set to buy a 1989 Volvo sedan, but instead the car salesman talks him into buying a flashier model. Elaine wins her boss a chance to walk in the Macy's Thanksgiving Day Parade and Kramer decides to help out a small business by sending business their way. As part of his project, he cleans out Jerry's closet and sends all of his sneakers to them for repair. If you know Kramer, you know this doesn't bode well.
New Girl: Season 2, Episode 8
This episode of New Girl is more like The Parent Trap meets Thanksgiving and it's just as hilarious as that sounds.
Grey's Anatomy: Season 2, Episode 9
This Thanksgiving feast is pre-Pinterest and it shows. Cringe along while Izzie tries to have the perfect Turkey Day, but she is literally clueless about what to do.
Unbreakable Kimmy Schmidt: Season 2, Episode 13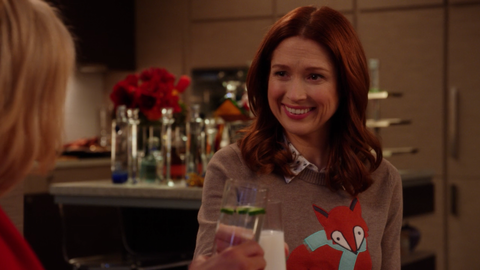 You need to watch this episode of Unbreakable Kimmy Schmidt for the sole purpose of deciding what you're thankful for. You know there's that one Aunt who's gonna ask. If you really don't know, riff off Jacqueline's answer. She's apparently thankful for "loving someone other than herself…and revenge". Iconic.
Brooklyn Nine-Nine: Season 2, Episode 7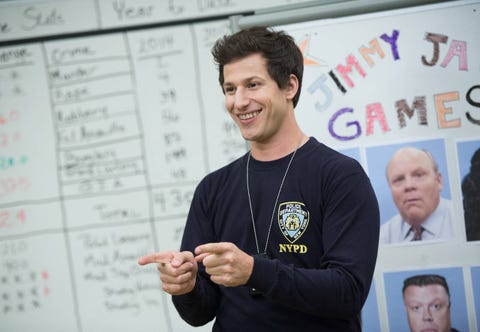 If you really don't want a Thanksgiving-forward Thanksgiving episode (weird flex, but okay), you can always rely on Brooklyn Nine-Nine to bring the chaos.
Source: Showpo